Exciting New Features to Make You More Efficient!
Welcome to the 2023 AgriNet Update
This is what you've been waiting for.
The AgriNet Update is a major enhancement of our ASNA-exclusive crop insurance processing system, which will solidify AgriNet's position as a best-in-class suite of tools. 
The guiding lights of the AgriNet Update are: 
Making you more efficient and making your job easier.

Achieving even faster and more accurate claims service.

 

Cultivating the flexibility and innovation necessary to meet the evolving requirements of the crop insurance program.

 
In service to these goals, we have vastly improved the processes surrounding data entry, document management, acreage reporting, and mapping. 
Keep reading below for more details about the AgriNet Update. You're going to like what you see.
Innovation that started with you.
The AgriNet Update is rooted in AgriSompo North America's commitment to stellar customer service. When our agents speak to us, we listen. These new features were conceived based on your input and developed after many hours of meetings with agents and field staff. 
The next generation of crop insurance.
The AgriNet Update is packed with powerful new tools you can start using today – but these are only the beginning.
This update also prepares a strong foundation behind the scenes for further expansion over the coming months and years. The groundwork we've laid with this update will allow us to seamlessly release future enhancements as we take advantage of the newest technologies and ideas.
Crop insurance is complicated and ever-changing. Only AgriNet is developed with the agility and the foresight to keep up.
Some people thrive on chaos. For everyone else, there's the AgriNet Work Queue.   
A color-coded, streamlined to-do list, our new Work Queue lets you view your upcoming and ongoing crop insurance tasks at a glance. See the status of your policies and documents, track the progress of written agreements or policy change requests, and identify what needs your attention next – all from a single screen.   
Get your work done faster. An easy-to-manage workflow allows clearer communication with your underwriter and accelerates processing time.  
See through the clutter. Filter tasks by due date, policyholder name, or a user-assigned color to be sure you don't miss a thing.   
Always know what's next. With the Work Queue, it's easy to see which tasks are due immediately, already completed, or coming up soon. You can even set a custom follow-up date for any task.  
Catch errors before they're a problem. Early identification of PASS errors and other issues allow you to correct them right away, expediting claim payments to your customers.  
Click here to log into AgriNet and get started with the Work Queue.

Easier. Smarter. Better.
Our new Document Management system streamlines and simplifies the process of sending files to your underwriter. No more waiting and no more wondering – just scan in your documents and watch our automatic identification system in action.
Simplify your workflow. Our new tool is fully incorporated into AgriNet, eliminating the need to download and learn third-party software.
File paperwork instantly. Documents are automatically identified and filed by the system, rather than manually processed by your underwriter, resulting in much faster turnaround times.
Stay in the loop. Once a file is uploaded, you can immediately begin tracking its status with the AgriNet Work Queue.
Get your customers paid. Our adjusters and auditors utilize the new Document Managment system to provide quicker, more accurate claims service.
Click here to log into AgriNet and experience easier document management.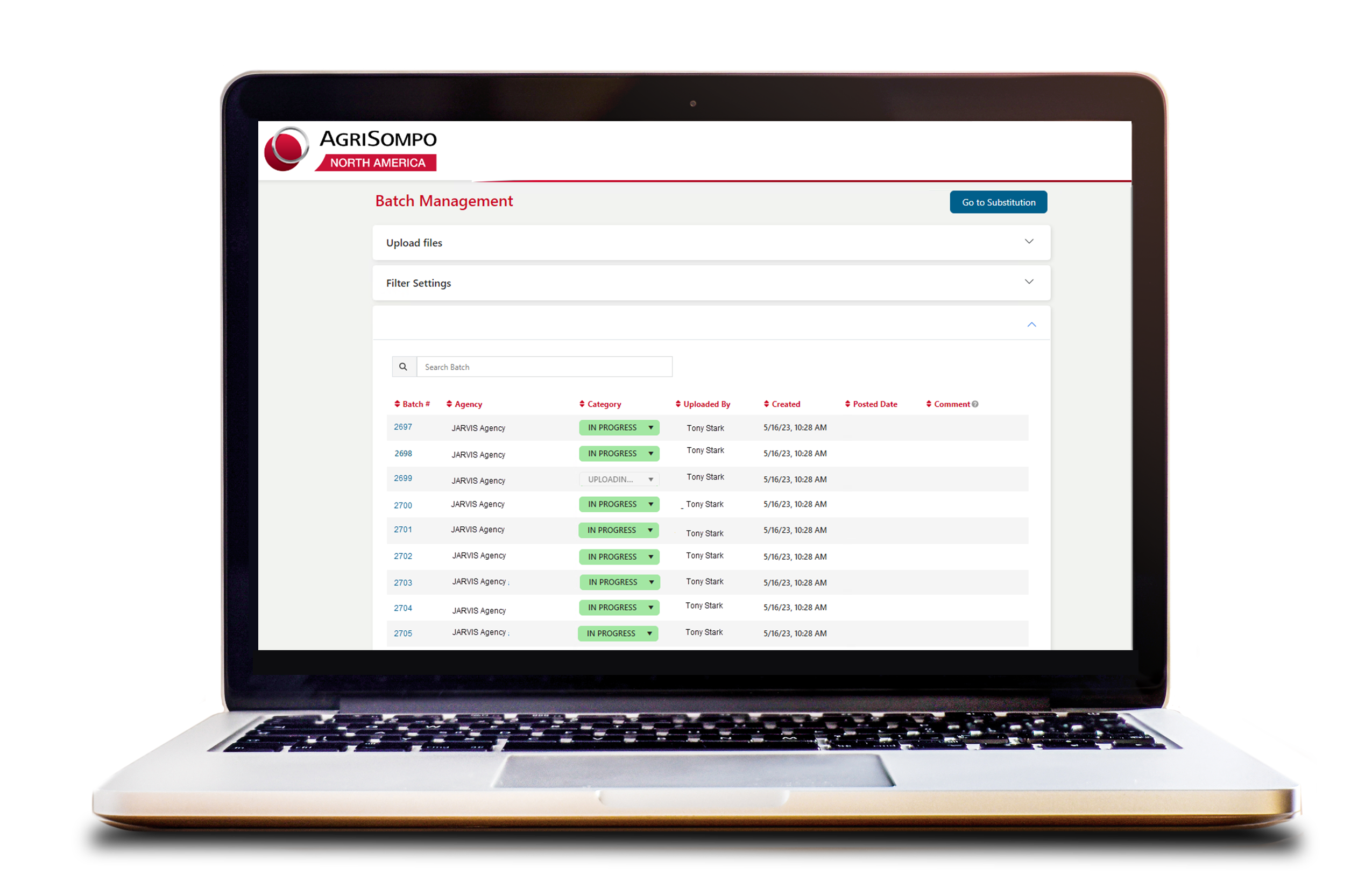 The future of acreage reporting is here. 
Our brand-new system provides a more stable, flexible Mapping application while retaining the workflows and functions you're already familiar with. 
Enjoy a fresh new look. Our cleaner, sharper design is more intuitive and more closely matches the rest of AgriNet. 
Report acreage your way. A variety of updates put you in control, including enhanced print options, new mapping books, and easier field editing.
See your maps like never before. Our new system features satellite imagery that's clearer and sharper than ever.
Get your hopes up. This is only the first phase of the new AgriNet Mapping, paving the way for future updates that include everything on your wish list and more.
Click here to log into AgriNet and try out the industry's best mapping program.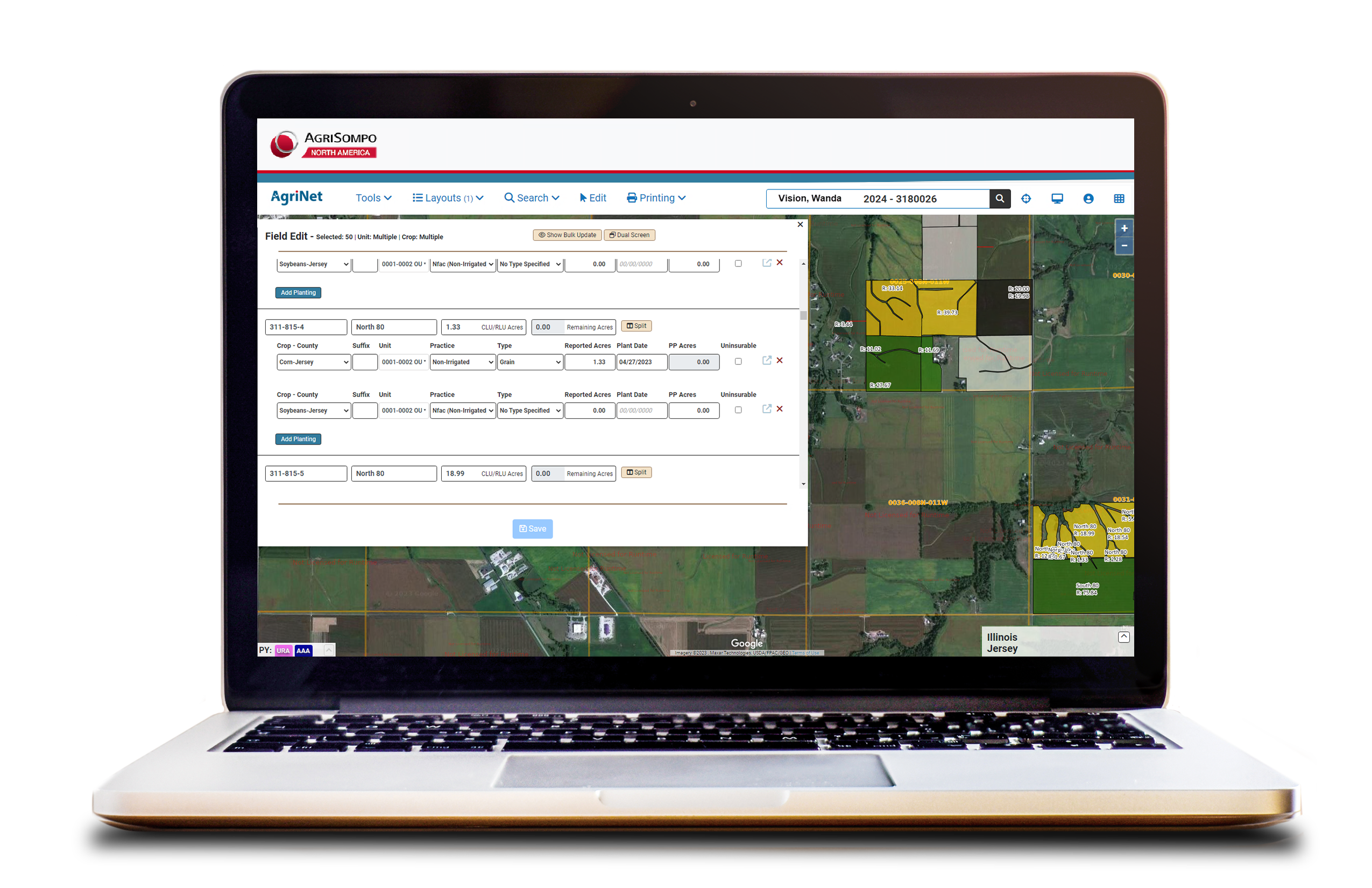 Not an ASNA Agent?
Don't worry – you can still check out the industry's most powerful processing tool. Fill out the nearby form or call +1 800 335 0120 to set up a demo with our friendly marketing staff. 
AgriSompo North America is one of the nation's largest underwriters of federally-sponsored crop insurance. We're dedicated to protecting the livelihoods of farmers and ranchers by offering direct and customized agribusiness risk management products through a nation-wide network of exceptional independent crop insurance agents.